Exclusive design and technology, the video door intercom for every need.
AVE presents the two new V44 EASY (2-WIRE) and V44 SMART (IP) video intercom systems, designed to ensure the best in terms of reliability, user-friendliness and functionality. To advanced technology AVE adds elegant and distinctive aesthetics (common to both ranges) with a wide choice of outdoor stations featuring an exclusive bi-material design in aluminum and glass.
For both ranges, 'Villa' outdoor units are available. They have reduced widths so they can be installed on poles with 100 mm sides. Their most important features are:
single, two and four-family houses units;
four names side column (with space reserved for the "info" tag) and eight names side column.
The 'Villa' outdoor units also have:
camera which can be oriented in all directions;
2 relays for the management of the pedestrian gate and the driveway gate;
MIFARE card reader for managing the main relay (feature available for single and two houses units);
white illuminated tags removable from the front;
remote response to an incoming call via APP AVE VIDEO V44.
In addition to the "Villa" stations, the new "Building" external units are available for both series, that are particularly suitable for installations with a high number of users. Their main features are:
7" colour touch screen;
visualization of the name list or the numeric keyboard;
2 relays for the management of the pedestrian gate and the driveway gate;
MIFARE card reader for managing the main relay.
2-WIRE V44 EASY video intercom: an easy-to-install and complete two-wire system with a range of indoor units including the classic intercom handset, a 7″ Wi-Fi indoor monitor, that allows remote call answering via app, a 4.3″ LCD monitor and 7″ LCD monitor to meet all end-user needs.
IP V44 SMART video intercom: it's a connected range designed for modern homes, based on a platform open to new developments. It's a complete IP system, offering intelligent answers for complex entrance structures and obviously an optimal solution within home automation and IoT systems.
The new 7″ (code TS-SMART7xx) and 10″ (code TS-SMART10xx) home automation supervisors are compatible with the V44 SMART IP video intercom series and can manage the DOMINA technological systems (home automation and anti-intrusion). The range of indoor units available in the IP system is also completed with:
– intercom handset;
– 4.3″ monitor whose installation is suitable for the smallest spaces.
All the devices of the AVE V44 Smart IP range can be powered through a PoE 48VDC switch or by a 24VDC switching power supply.
The V44 Smart devices can be connected to existing LAN networks: the internal and external IP units coexist and operate on the same LAN network with other devices. In this specific case, the configuration must be followed by an IT technician in order to ensure the entire network infrastructure where the addressing of devices must be appropriately managed by means of a static IP address.
The two AVE video intercom ranges are designed to facilitate professional work. Programming is simple and requires no specific computer knowledge.
The small size of the devices also allows them to be installed in most of the boxes of other manufacturers already installed, by means of the VI-ADATT back-compatibility plate (to find out which boxes are compatible, please contact the AVE sales office).
With the new 2-WIRE (V44 EASY) and IP (V44 SMART) video intercom systems, AVE offers a professional solution that can meet all the needs of a market that is increasingly looking for innovative products.
Request information on AVE video intercom systems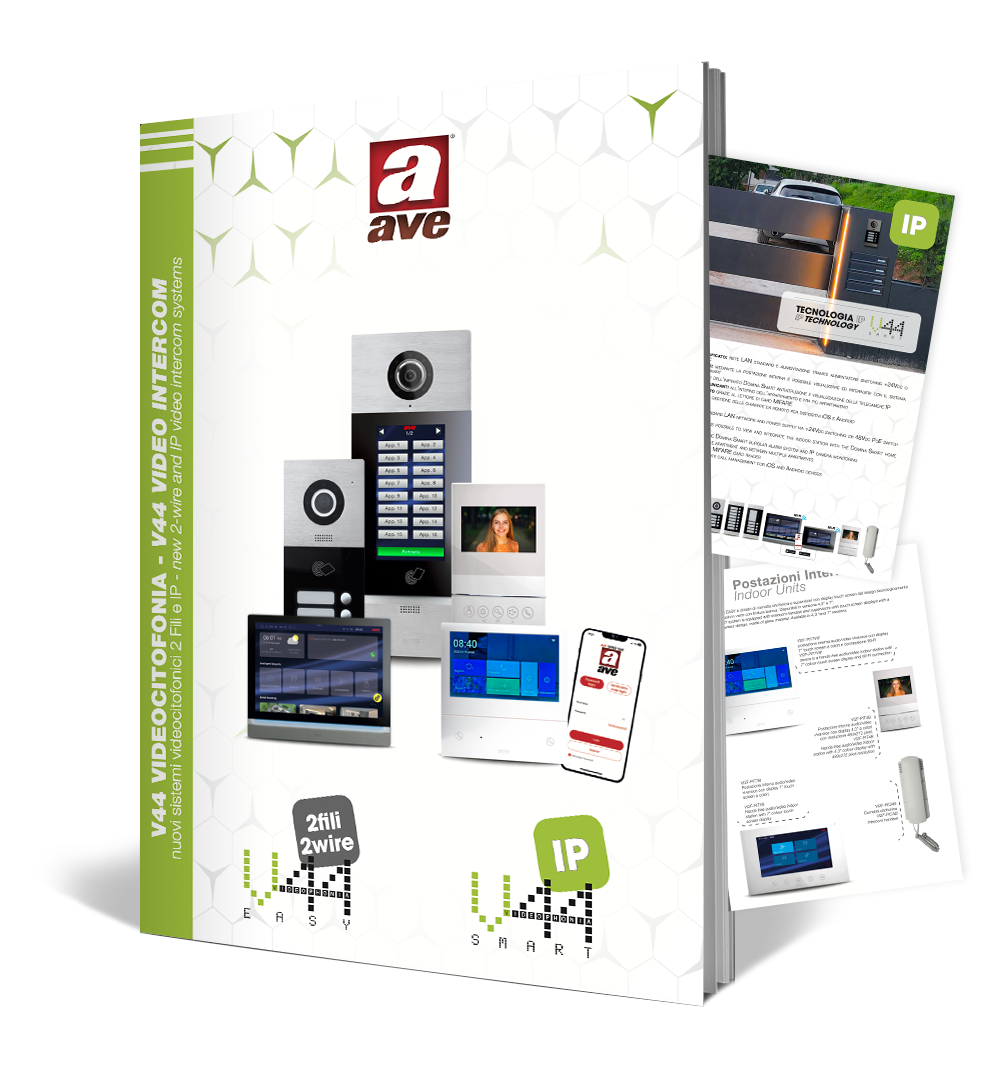 Brochure 2-wire and IP video intercom
AVE presents its 2-wire (V44 EASY) and IP (V44 SMART) video intercom systems. Both are characterized by a stylish design with a bi-material frame in aluminium and glass. V44 EASY makes the connection immediate, fast and error-proof through the wiring with only 2 non-polarized wires. V44 SMART offers a complete IP system, which integrates with home automation and anti-intrusion, offering intelligent answers for smart homes and buildings.
Download the brochure