AVE innovation will be among the protagonists of the long-awaited event, that will be held in Frankfurt am Main from 2 to 6 October 2022. 
Light + Building, the international industry event for lighting and building services technology, in its autumn edition will host the AVE solutions which will occupy a top-level position within the exhibition areas of the Frankfurt am Main trade fair.
In fact, the AVE stand (Hall 11.1 C11) will exhibit the most innovative solutions of the Italian company, both from a technological and design point of view. The flagship will be the home automation range with interesting proposals based on both the proprietary AVEbus system and the KNX standard, that are designed to make buildings and homes increasingly smart and on a human scale. In particular, there will be important product innovations that expand and complete the KNX range; in addition to the box-mounted products (like switches and Room Controller), AVE will in fact exhibit a series of DIN bar devices for the management of various functions, such as light actuators (including for DALI system), shutter actuators with slats inclination's adjustment and multifunction actuators for the management of 2 and 4 pipe Fan Coils and proportional valves. The new IoT wiring accessories series and the new ranges dedicated to 2-wire and IP video intercom systems will also be protagonists within the AVE stand. All that it will be reinforced by the quality of Made in Italy design and by innovative seesaw button, touch and toggle controls, that are designed to best adapt to the needs of different international standards.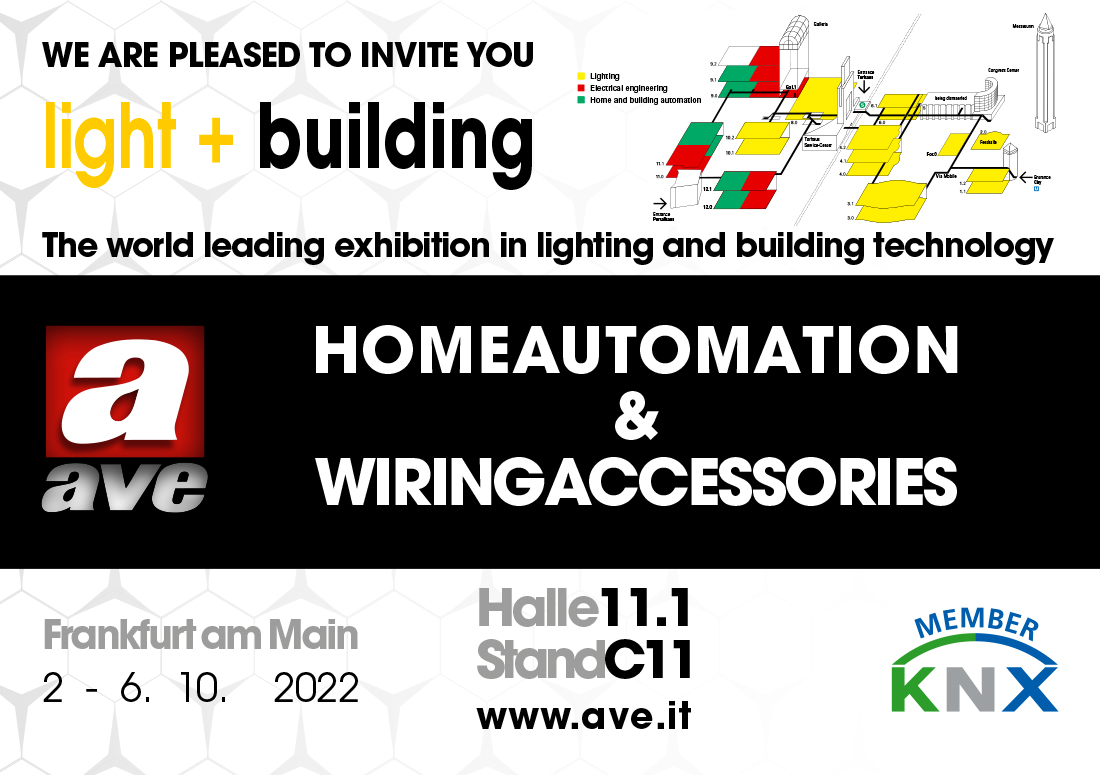 Light + Building Autumn Edition 2022 will be a very important showcase for AVE solutions and its innovative, quality products, that are ready for lay the foundations for the future, "Breaking New Ground" – as the payoff of the exhibition says.