AVE introduces an extremely reliable and high-quality Emergency Call System; it's convenient, easy to install and to use, perfectly matched to all System 44 aesthetics and already available in a practical basic KIT.
Designed to meet the most stringent healthcare needs, AVE Domus 100 Emergency Call System guarantees maximum flexibility offering state-of-the-art technological solutions – enhanced by the unique System 44 aesthetics – at an affordable cost.
It's a simple and complete Emergency electromechanical Call System realized with relays, that integrates local Request and Reset devices and optical-acoustic signal devices. Thanks to its simplicity, AVE Domus 100 Emergency Call System easily installable, satisfies the most stringent system requirements, with the possibility to set the optical signal as fixed or flashing, and the acoustic signal as continuous sound or at intervals of 3 seconds to 1 minute.
Furthermore, it is extremely simple to use and intuitive. The user only has to act on the button or via the cord operated push-button to make the emergency call. Immediately the relay will activate the optical and acoustic signals. Intervening in the room, the assistant can reset them by acting on the button placed inside the room or by any buttons connected for the silencing.
The AVE Domus 100 emergency Call system is also innovative from aesthetic point of view. The universal S44 support allows to complete the emergency call system with all the S44 front plates – from plastic version to top front plates in glass and aluminium. The visible elements of the system are proposed in the elegant white colour (RAL 9010) – typical of Domus 100 wiring accessories series. The installer can therefore rely on a complete range of solutions to best integrate the emergency call system in the electrical one.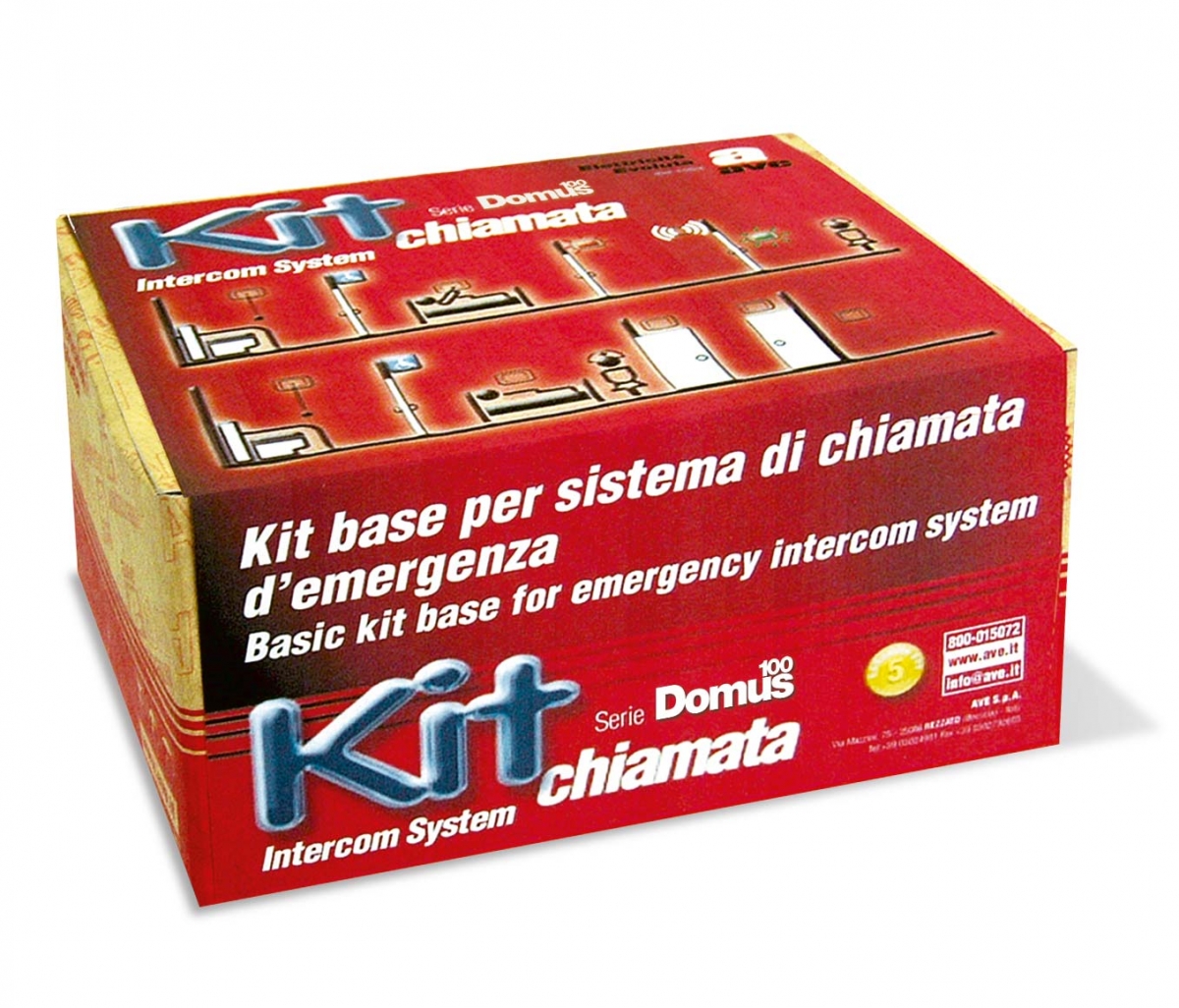 AVE Domus 100 Emergency Call System is already available in the practical basic KIT (code KITCHIAMATADOM), which includes:
| | | |
| --- | --- | --- |
| Cod. Ave | | Q.tà |
| 441087C | Call system relay 12Vac/dc | 1 |
| 441081 | Auxiliary alarm bell 86dB 10÷28Vac/dc | 1 |
| 441082ALI | Power supply 230Vca/12Vcc 5W | 1 |
| 442076 | Prominent lamp holder | 1 |
| 0212LDW/E10HI | High intensity led lamp 12V~ E10 10×22 mm – white colour | 1 |
| 441050 | Switch push (1P NA 10A) to make retractive with "RESET" | 1 |
| 441017 | Cord switch pull to make retractive 1P 10A NO | 1 |
| 44A03 | Frames with screws for 3 modules rectangular boxes 3 | 3 |
Experiencing the advantages of the AVE Domus 100 emergency call system is even more convenient. In an area where safety and reliability are paramount, this solution presents itself as an effective and optimal response, offering high standards in both of these terms.