KNX technology is enhanced by AVE smart solutions, that are designed to offer flexibility and functionality for the creation of advanced home and building automation systems.
AVE add new devices with KNX technology, offering greater functionality and more flexibility for the creation of home and building automation systems. In addition to the products already in its catalog, AVE range adds several DIN rail devices with KNX technology:
Loads actuator devices: available in two versions with 4 or 12 independent channels (NA or NC programmable).
Shutters actuator devices: available in two versions for independent switching of 2 or 6 shutters. They allow the slats inclination's adjustment (for Venetian blinds) and the management of 4 alarm levels to prevent damage caused by atmospheric events.
Multifunction actuator devices: allow independent switching of 4 or 12 electrical loads. They also allow shutter adjustment and management of 2 and 4 pipe Fan Coils and proportional valves.
All these devices have significant technical characteristics: bistable relays with 1 closing dry contact, power supply from KNX BUS only (therefore they do not require 230VAC power supply), logic operations on outputs (AND, OR, XOR, NOT) and scene function.
In addition, the following KNX DIN rail devices are also added:
Dimmer actuator device: for the independent management of two dimmable light loads, with up to 300W for each of the two channels and scene function.
DALI/KNX Gateway: a DALI master unit with integrated power supply. It manages a DALI line, 64 addresses and up to 16 groups. Inventory procedure to address the Ballasts. For each address it's possible to set different parameters: light level at switch-on, linear or logarithmic curve, variation time, …
Among its new KNX products, AVE also presents a probe (for back box installation), that is designed to detect temperature and relative humidity. This device allows you to set 4 temperature set-points (comfort, stand-by, night, protection), 4 relative humidity thresholds and 4 dew point thresholds. There are 4 different types of actuation (on-off for boiler, on-off "stepped" for fan coils, % "stepped" for fan coils with brushless motors, % PI for proportionally controlled machines) which make the probe extremely versatile. It's equipped with 4 inputs for button interface, with short and long pressure management, button function, dimmer and shutter. It also offers the scenario recall function.
The new DIN rail devices and probe further expand the AVE's KNX range, already complete with the main system modules, control devices (tilting button, touch and toggle switches) and the innovative Room Controller. All that is supported by the reliability of the AVE brand and its S44 design, a perfect mix of aesthetics and cutting-edge solutions designed to enhance KNX technology.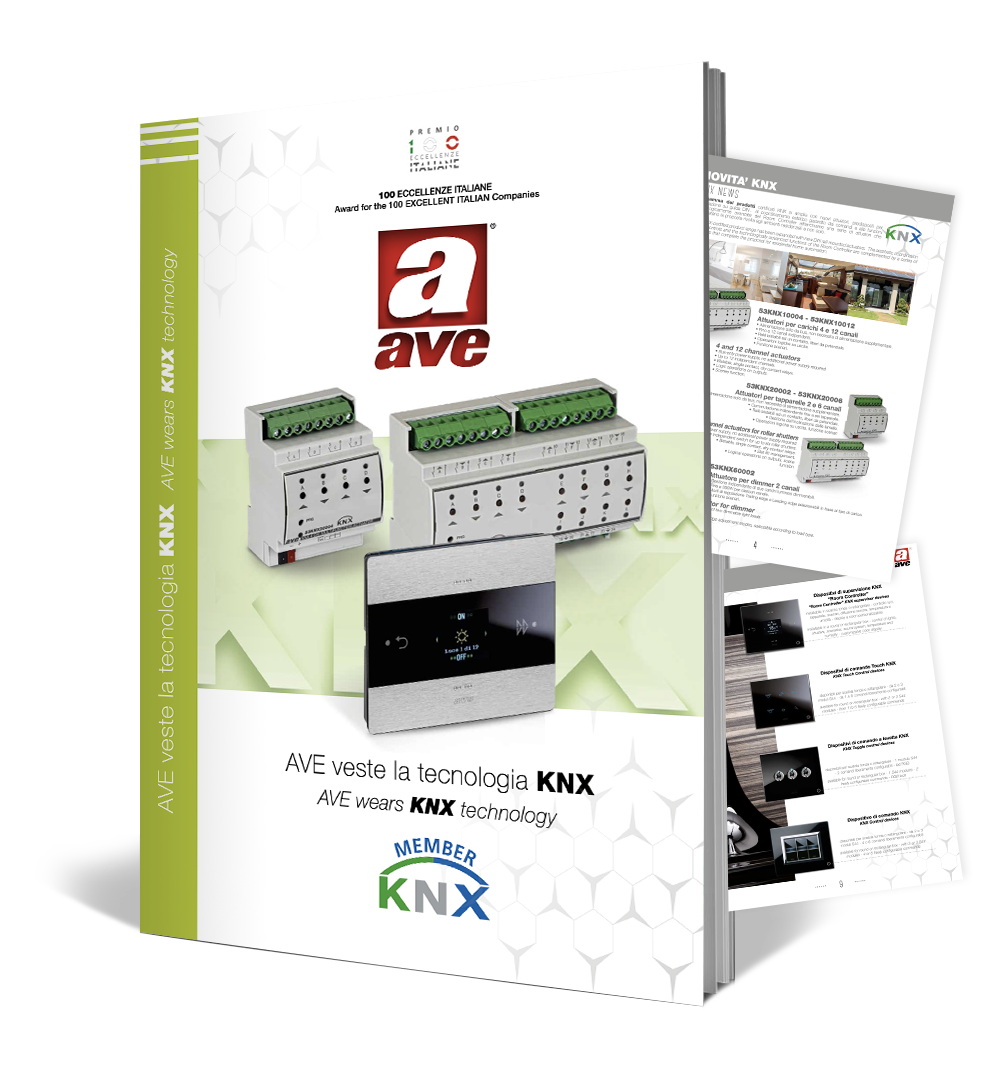 AVE system 44 design fits KNX Technology. AVE front plates recover minimalist essential aesthetic lines in order to redefine the concept of style. In addition to the aesthetic and functional aspects of the control devices, AVE KNX range contains the main modules of the system.
They are designed to express the best of: multifunction, scenarios, alarms management and programmable logics.
Download the dépliant